BMC 2023 Events
For Members Only
(click on links, below, for event information & registration)
---
Other Special Events
Updated April 28, 2023

Here's where you will find information on Autocross, The Sports Car Club of America (SCCA) Road Rallies, High Speed Performance Events, etc.!

Touring Italy in Miatas

September 2 : Miata Homecoming Midwest Gathering


---
---

Visitors
since 11-3-2006

BMC Board Meeting

There will be a Badgerland Miata Club board meeting on Tuesday October 17 at 7:00pm. The meting will be conducted using Zoom. Any one interested can listen in and comment but will have no voting rights. Information on how to log into the meeting will be sent out closer to the date.

October 14 Color Tour

The 2023 Color Tour has been finalized. Go to Calander of Events or click here for all the current information.

The Story about Wisconsins Famous Curvy Road


Several questions were asked about the origan of the curvy road during our Door County Ride. Ginger Carney found this and wanted to share it with the club. The article was writtrn by Drew Dawsin who works foe the Milwaukee Journal.

When was the curvy road in Door County built?
According to the Door County Pulse, the road between Gills Rock and Northport was built sometime in the mid 1930s.

Why is the road curvy in Door County?
That is somewhat uncertain, but there appear to be parts to the story. The first, according to the Door County Pulse, is that the telephone lines once lined down the center of the road. So vehicles could drive the section, the road was built winding between them until the lines were removed 1986. The curvy highway was proposed because there was no public road beyond Gills Rock in 1934 and there was a desire to connect the northern ends of Door County by road.

The other part of the story, which is disputed, is that famous landscape artist Jens Jensen, who is a member of the Wisconsin Conservation Hall of Fame, was tasked with helping create the road between Gills Rock and Northport. In keeping with Jensen's conservationist ideals, he, along with the Door County board members, purposely designed the road with many tight curves and with minimal cutting of trees, particularly sparing the larger trees.

However, this part might not be true. "There is no evidence that Jens Jensen was directly involved with the design of the winding road. He was aware of the project and publicly approved of it," Steven Rice, Museum and Archives Manager at the Door County Historical Museum, told Atlas Obscura. Rice added that a local farmer and road supervisor, George Schultz, was head of the highway project.

Have there been attempts to straighten the curvy road?
Yes. According to Atlas Obscura, there were attempts by planners to straighten the road in the 1970s. It was publicly opposed and the road remained curvy.

Does the Door County curvy road have any designations?

The curvy road is part of the the Door County Coastal Byway, which is one of three National Scenic Byways in Wisconsin. The other two are the Wisconsin Lake Superior Scenic Byway near the Apostle Islands and Wisconsin's Great River Road.
South Kettle Moraine Ride
September 23, 2023

South Kettle Moraine Drive
Noon Saturday September 23rd

Hosts Bill and Jim will lead you to some familiar and unique roads in Waukesha and Walworth Counties. We will meet up at Noon at Kwik Trip #184….2001 Golf Road, Pewaukee. That's just North of I 94 exit on County T also known as Grandview Blvd. It's right next to the DMV. Drivers meeting at 12:30 and leaving shortly after. We suggest having lunch before hand. Kwik Trip or plenty of options available on the South side on the same exit. After wandering around some Kettle Moraine hills we return to Golf road around 5. If you want to stick around for dinner we have space for 35 at Water Street Brewery Delafield.
See CALENDAR OF EVENTS for information on signing up for this ride.
Door County by Land, Sea & Sky
Saturday, Aug. 26th: Free Day and By Sky
by Marcy Hotz

Because Friday's Sunset Cruise had been canceled due to chilly, rainy weather, Jane was able to pull together a next-day cruise for the group. So after a filling and chatty breakfast at the Somerset Inn, Jim and I donned our jackets and umbrellas - just in case - and drove to the cruise ticket booth in Sister Bay to get our tickets. Unfortunately this cruise had similarly been canceled, but I hadn't noticed on my phone the text they had sent out.
Oh well, that gave us the better part of a day to do whatever we wanted, since the organizers wisely gave participants that opportunity. We first strolled through Al Johnson's gift shop across the street from the boat ticket booth and found a cute set of magnets: cat butts - for Jim's sister, the Cat Lady.

Following that, we drove to Hands-On Art Studio in Fish Creek where we made a glass wind chime (see photo). It took us about 2 hours to complete: you pick 7 pieces of clear glass, then glue a design using various colors of smaller glass pieces to each of the 7 bases. The glued pieces are fired in a kiln overnight and the instructor strings the 7 fused pieces to a pre-formed metal piece with a hook for hanging. It was great fun and gave us a beautiful hand-made souvenir to take home.
We stopped at the Main Street Market in Egg Harbor and picked up a bottle of Montepulciano to enjoy after the day's activities, and by then we had worked up an appetite for lunch. We found a newer restaurant, Mezzanine, stopped for a glass of wine and shared a fabulous charcuterie board. There is rooftop dining there, but because it was still a bit cool, we opted for indoors. This restaurant gets a 5-star rating in my book!!
We drove around a bit looking for the Northern Lights Theater (this is the Sky part) in Fish Creek where we would enjoy a play later that evening. From there we went back to the motel to change clothes and rest a bit before going to dinner. We had early reservations due to our 7:30 play and wanted to not rush through dinner. We were still kind of full from the charcuterie board, but managed to stretch our dinner out for 2 hours at the Carrington Restaurant at the Landmark Resort in Egg Harbor before heading off to Northern Lights, about 15 minutes away.
For the complete article
"
CALENDAR OF EVENTS
"
Door County Post Event Article
by Patty Kobus
Wouldn't it be lovely to have a slice of heaven on Earth? Well, that's just what we Miata lovers got to enjoy starting on Thursday, Aug. 24 at the Somerset Inn, Ephraim, Wisconsin. Beginning with a cookout on the spacious, outdoor kitchen patio, we grilled, drank, ate, laughed, ate more and had a wonderful reunion with members new and old. The lovely glass marbled fire pit surrounded by comfy Adirondack chairs added an element of coziness and ease for us to savor. We finally turned in with full tummies and happy hearts.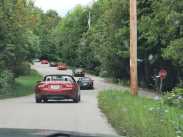 Friday dawned cool and overcast, but the mighty Miata groups were enthused to begin the diving service. Our group left at 9:15, a reasonable hour indeed, and discovered rolling hills with pretty homes just off Hwy 42 which absorbs most tourist traffic. Alone on our little roads we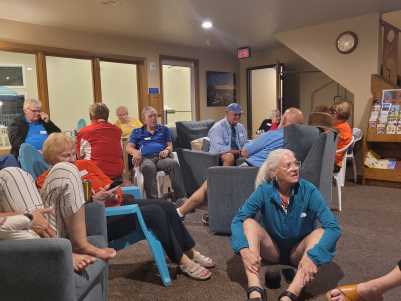 found greenery of all shades, sheered walls of arbor vitae protecting the privacy of a lovely manse, outcrops with caves, wheelbarrow planters overflowing with colorful, happy flowers, tree canopied lanes, alpacas lolling about and a beautiful Moonlight Bay, one of the longest on our route. Being on the snaky, multi-curvy part of Hwy 42 leading to the Washington Island Car Ferry was our zoom, zoom time, much loved! Whee! The sun peeked out, the sky turned aqua blue; and all was right with the world as we pulled into the Shipwreck Restaurant in Egg Harbor for a delicious lunch with ample sitting room and acoustics that allowed for pleasant conversations. Perfect.
Although our pre-planned sunset boat tour was cancelled due to serious stormy weather that started minutes after our 5:30 scheduled boarding time, back at the Somerset, we gathered inside to huddle and chat, appreciating a truly perfect slice of heaven.
Thank you to Jane and Dennis Schmidt and Ginger and Brian Carney for being the angels who made this a special time for us all.
click on picture to enlarge
* Contact BMC
* BMC Four Regions Map
* WI County Road Maps
* WI County Bicycle Maps

**** MESSAGES ****
* Replacement Badgerland Miata Club Badges.
If anyone needs a new name badge for the Badgerlandmiata Club you should contact Jim Hotz at treasurer@badgerlandmiataclub.com . The cost for a replacement badge is $5.00.

Annual membership dues are $25.

If you would like a BMC logo sticker for your Miata, contact treasurer@badgerlandmiataclub.com.
* Do not use Facebook to register for an event. Contact the event host via the contact link in the event description.
---
* BMC Tech Advisers.
Click on the above link to email miata tech questions
and access tech information from our library
---
*Ride with GPS.
Go to the members only section for instructions on how to use "Ride with GPS" and how to download routes into a Garmin.
---

Officers for 2023:

President: Don Gervais
president@badgerlandmiataclub.com

VPSE: Jim Loeffler
vp-se@badgerlandmiataclub.com<

VPSW: Henry Netzinger
vp-sw@badgerlandmiataclub.com

VPN: Mike Jelen
vp-n@badgerlandmiataclub.com

Secretary: Jan Bright
secretary@badgerlandmiataclub.com

Treasurer: Jim Hotz
treasurer@badgerlandmiataclub.com

Webmaster: Ron Staub
webmaster@badgerlandmiataclub.com

Facebook Admin: Marcy Hotz infotech@badgerlandmiataclub.com


---
Miata Generation Guide
Click here to see the different Miata generations.
---
Messages from the Treasurer:
Keeping the members list up-to-date is part of the treasurer's job. If any of your information changes, such as your email address, phone number, etc., please notify me at: treasurer@badgerlandmiataclub.com or 414-507-4111
Thank you for your help. Jim
Messages from the Webmaster:
Share your event photos. Create a link to your photos that can be included with event updates.
Email event articles and photo links to Ron at: BMC Webmaster
---
** MX-5 MIATA LINKS **

Miata Clubs in USA and World

Miata.net

MiataFun.net

Our Neighbors:

Abe Lincoln Miata Club

Miata Club of Minnesota

Windy City Miata Club