BMC 2022 Events
For Members Only
(click on links, below, for event information & registration)
---
Other Special Events
Updated January 7, 2022

Here's where you will find information on Autocross, The Sports Car Club of America (SCCA) Road Rallies, High Speed Performance Events, etc.!

Touring Italy in Miatas

This is the 2022 Milwaukee Region Road Rally schedule.


---
---
Visitors
since 2-14-2006

Pooping in Illinios-post event article
by Laura Neitzinger

This was a very interesting 4-day adventure for the 15 MX-5s. We started our trek at a McDonald's in Oregon, WI gathering around 9 am. Around 10am the cars started rolling through the roads, the adventures were to many to post on the front of our web page so you will have to read about them in the CALENDAR OF EVENTS! for the complete article.

2022 Miata MX-5 Review.
submitted by Pat Kobus

To see Motortrends review of the new 2022 MX-5 RF click
here
.
Mini Car Museum Drive Recap.
by Jeremy & Cari Zorns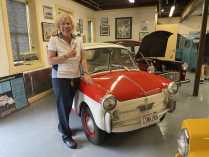 We arrived at the Micro Car Museum to a warm welcome from the proprietor; a nice German lady. She is QUITE knowledgeable about every one of those tiny cars. I think my favorite was the electric micro car with two levers, for steering it like a tank. The micro woody station wagon is right up there. Someone (Cindy Garnett?) brought snacks; the homemade cookies were GREAT!
See
CALENDAR OF EVENTS!
for complete ride information and how to sign up.
For more pictures of the museum see the photo section of the web page.
B.A.C.K 2.0

Sign up is now available for the August 13 B.A.C.K. 2.0 Ride. We will start gathering at the Kwik Trip #139 Gas Station just east of I-43 at Exit 120 at 11:30. The first stop will be the John Michael Cole Art Preserve for a tour. Then heading for ice cream and a drive through Northern Kettle Moraine. A dinner is planned at the Woodland Creek Super Club for members that are interested. See CALENDAR OF EVENTS! for complete ride information and how to sign up.
Holiday Mazda Drive

Sign up is now available for the June 25 Holiday Mazda Drive. We will start gathering at the dealership around 10:00 am with lunch being served at 11:30. After a hardy lunch there will be a drivers meeting held at 12:45. We will then line up and head out at 1:00 pm on a cruise of the Northern Kettle Moraine. UPDATE
The Woodland Creek Supper Club is under new ownership and will not be open by the time of the Holiday Mazda Drive. The new owners also own the Twisted Pair in Beachwood about 6 miles from the other place on County A so dinner will now be at the new place. The menu for a group our size will be limited to pizza.

See CALENDAR OF EVENTS! for complete information.

* Contact BMC
* BMC Four Regions Map
* WI County Road Maps
* WI County Bicycle Maps

**** MESSAGES ****
* Replacement Badgerland Miata Club Badges.
If anyone needs a new name badge for the Badgerlandmiata Club you should contact Jim Hotz at treasurer@badgerlandmiataclub.com . The cost for a replacement badge is $5.00.

Annual membership dues are $25.

If you would like a BMC logo sticker for your Miata, contact treasurer@badgerlandmiataclub.com.
* Do not use Facebook to register for an event. Contact the event host via the contact link in the event description.
---
* BMC Tech Advisers.
Click on the above link to email miata tech questions
and access tech information from our library
---
*Ride with GPS.
Go to the members only section for instructions on how to use "Ride with GPS" and how to download routes into a Garmin.
---

Officers for 2021:

President: Don Gervais
VPSE: Jim Loeffler
VPSW: Henry Netzinger
VPN: Doug Meintzer
Secretary: Jan Bright
Treasurer: Jim Hotz
Webmaster: Ron Staub
Facebook Admin: Marcy Hotz


---
Miata Generation Guide
Click here to see the different Miata generations.
---
Messages from the Treasurer:
Keeping the members list up-to-date is part of the treasurer's job. If any of your information changes, such as your email address, phone number, etc., please notify me at: treasurer@badgerlandmiataclub.com or 414-507-4111
Thank you for your help. Jim
Messages from the Webmaster:
Share your event photos. Create a link to your photos that can be included with event updates.
Email event articles and photo links to Ron at: BMC Webmaster
---
** MX-5 MIATA LINKS **

Miata Clubs in USA and World

Miata.net

MiataFun.net

Our Neighbors:

Abe Lincoln Miata Club

Miata Club of Minnesota

Windy City Miata Club