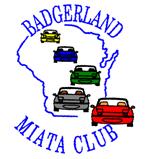 Annual dues - $25.00
Make checks payable to:
Badgerland Miata Club

Seend to:
Jim Hotz
S45 W33434 Hengen Drive
Douseman, WI 53118




Membership Application
Directions:
After the form is filled out click the "send form" button and your information will be sent to the Badgerland Miata Club Treasurer. After sending the form you can mail a check to the address at the top of the form or go back to the "join" drop down menue and click "Membership Renewal Payment by Credit Card" which will allow you to pay with a credit card. BMC does not keep credit card information on file.